YES! YES! YES! Now you can repair you computer on your own.
Here are some of the few steps by which you can fix your PC
I'm gonna show how to fix some of the major and common problems on your computer.
ALL THE THINGS ARE SAFER TO BE DONE WHEN YOU UNPLUG YOUR POWER CABLE AS DISLOCATING THE DEVICES MAY SORT YOUR COMPUTER....
YOUR SCREEN DOESN'T RESPOND AFTER YOUR PRESS ON BUTTON!!!!
This is one of the most common issue that happens to most of the computers.... well don't panic
I've got a solution for it ....
this is the issue with your
RAM
(random access memory) most p.c have this problem as a lot of dirt and unwanted material gets on your motherboard resulting in dis-contacting to the jack.The way to fix it is to remove the RAM and reinsert it in to the jack.
NOW IF YOU DON'T KNOW WHAT IS RAM AND WHERE IT IS LOCATED. Just follow the steps
STEP 1
open your CPU cabinet by removing the left side of the panel as shown below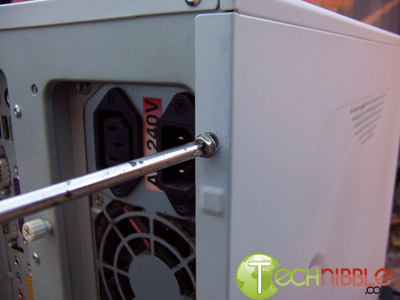 STEP 2-DON'T TOUCH ANY THING ELSE OTHERWISE YOU CAN DISTURB OTHER THINGS ON MOTHERBOARD
Now where is RAM located is shown above.The cassette like structure which is clipped vertically is ram NOW remove the RAM carefully without disturbing any thing else
for removing you would have to press and side the clips which are holding the RAM
STEP 3 NOW clean the RAM'S golden points with dry and clean cloth or it is best to rub that part with stationary eraser (as you use it in your school)
STEP 4 Now after cleaning insert it again now plug your cable and make IT "ON"
HEY DON'T FORGET TO CLOSE THE CABINET
FOR ANY QUESTIONS AND FAQ'S YOU MAY CONTACT ME ON
FACEBOOK
AND
WHATS APP #9559231069
THANK YOU
CREATED AND OWNED BY YASH SHUKLA
(c) copyrigth by techolink.